Yoga & Personal Training
in the heart of london
The main reason for needing a Personal Trainer was to help increase muscle, particularly upper body strength and to improve my posture. Rita has helped me on both issues. We do a variety of exercises, ranging from yoga and back strengthening to more high intensity training. Since seeing her, I do not only feel much stronger but my posture has improved significantly.
ABOUT ME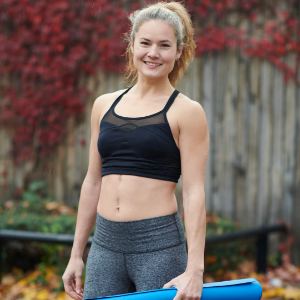 My name is Rita and I'm a yoga teacher and personal trainer who specializes in overall fitness, building strength and mindfulness.
I'm currently qualified as a Level 3 Personal Trainer and Certified Yoga Instructor with Yoga Alliance.

When you have little time, it can be difficult to get the balance you need in life. However, once you're able to manage your time, and get it right, you'll wonder why you didn't start earlier. That's what a personal trainer can help you with because ultimately we all want to live a happy healthy life.
If you'd like to discover more about your fitness, health and practical ways that you can adopt to make positive changes and reach your goals, then I'd love to hear from you!
Read more about my story and personal journey here.
Yoga class schedule
Location
Virgin Active Moorgate Bunhill Row, EC1Y 8LP
Tuesday
6:25pm
Vinyasa Flow
Thursday
1:05pm
Vinyasa Flow
Free-flowing yoga that's different every day. You'll glide from one posture to the next, coordinating your breathing as you go. It gives your heart and lungs a workout and improves your balance and coordination. You'll be stronger, more toned and more flexible.
yoga
I'm currently conducting yoga classes at Virgin Active Moorgate.
Please contact me if you would like to attend a class.
For information on corporate yoga please go here.
personal training
These are among the areas that I can help you with:
Weight Loss/ Management
Toning & Sculpting
Resistance Training
Muscle Building
Mobility / Flexibility
Strength, Power Development
Nutritional Coaching
various options available
Prices ranging from £54 – £74 per 1 hour sessions
To discuss your Personal Training options please contact me.
individual Assessment and consultation session
30 Minute 1 to 1 consultation (face to face or over video call)
Assessment of current diet
Example guide and summary based on goals provided
This one on one consultation forms the basis for all other services. This is suitable for anyone who wants to see me on a one off basis to get all their nutritional queries answered.
Price: £89.99

6 week support plan
45-60 Minute 1 to 1 consultation (face to face or over video call)
Assessment of current diet
Body-stat measurements
Example guide and summary based on goals provided
Optional check-ins via video call (15 mins x 2)
Additional guides on nutrition and supplements
This is a 6 week support plan where you will receive an in-depth look at your diet, additional support, physical assessment and extra material.
Price: £149.99

my story
My story, and the reasons behind why I want to share the practice of yoga with you, is as different as it could be to that of any other yoga teacher.
Mine was a life-changing emergency operation.
In February 2015, I was taken into a hospital's emergency room with excruciating pain in my stomach.  Prioritised as critical, when it gradually became apparent the doctors were struggling to diagnose what was wrong, the fear and panic started to become overwhelming. After eight hours of tests and scans, they performed an emergency operation that saved my life. As it turned out, a part of my intestines had twisted, which had it not been removed would have killed me.
Just six months before, I had qualified as a Personal Trainer. I had left the stressful corporate lifestyle behind to have a more rewarding vocation, by helping people lead healthier and happier lives. My operation however threatened to change everything once again – because the surgeons had needed to vertically cut through all of my abdominal muscles, I had to have intensive physiotherapy to strengthen all my core muscles again. I needed to recover, and wanted to recover quickly. I wanted my life back, but little did I know of what was yet to come.
I didn't realise I needed help and I felt such a failure, so powerless. That was tough. It was difficult for me to slow down and stop, to adapt, and to accept my new reality – personal training seemed so far away.
The first two years after was a roller coaster. I was in constant pain – I'd lost 20% of my small intestine and that had a huge impact on how my bodily enzymes and acids digested food. And it really hurt. At little more than a moment's notice wellness could change to piercing pain and being unwell, and soon I had to learn to accept that sometimes the best laid plans for the day may have to be modified, severely curtailed or sometimes even abandoned altogether.
When I had left the hospital, it was without any understanding or instructions as to how to live without a significant part of me. I searched for people to relate to, initially finding those with Crohn's and Ulcerative Colitis, and then later found a Short Bowels Syndrome group. My search included many hospital visits and taking test after test to learn about my "new" body, how it works and how I could live with it.
I hated it.
I thought this was it, for the rest of my life.
But my journey continued on regardless and after another year I started to appreciate that I had failed to give myself time to heal, failing both to be patient or kind enough with myself by accepting what had happened. And when it finally hit me, I needed to talk to someone. I couldn't keep it in any more. During my therapy, when I was diagnosed with post-traumatic stress and was encouraged to return to what I loved, so finally I decided to return to yoga.
My best friend promised to come with me for support and during my first class I just started to cry, uncontrollably. I couldn't stop. But they were tears of happiness, because for the first time in a long time I was able to move and stretch my body again without excruciating pain. That act of kindness that yoga gave me broke down all of my barriers – and the chance of a new way of living.
In my previous career, I had attended yoga classes to de-stress, 'fix' my back pains and aching muscles because the relief I felt lasted longer than a visit to the chiropractor. But now, yoga became, and still remains my go-to place to move my body, to stay healthy and to be strong, to accept myself as I am and to remind myself that it is imperfection rather than perfection that we all love. When I was unable to attend a class, I started instead to use a guided meditation to remind myself of this journey to self-care and in doing so I discovered that before I could accept what had happened to me, I needed to change from within. And I wanted to use my yoga.
Feeling intrigued with the philosophy of yoga, I enrolled on a Yoga Teacher Training course in February 2017. Although unsure about teaching at first, as both my knowledge and experience grew so did my confidence. I incorporated yoga into a health and fitness regime, and wanted to reach out to those who don't attend gyms as part of a holistic wellness to share what I have found out.
What I've learnt about myself, body and mind, during my recovery is more than I could have ever imagined or hoped for. Yoga, meditation, and nutrition played a big part to get me where I am today; to accept my condition, the fatigue and anxiety that comes with it. I'm still experimenting with foods that boost my energy levels. Believe it or not, some of the best foods are my least favourite – kale and beetroot. I'm constantly reading new information about our gut, the so-called second brain. It is through yoga, healthy eating, and self-care that I cultivated a new and more positive way of being that I want to share with you.
In my yoga classes, I combine strength and flexibility for the body, tackling any minor aches and niggles. Meditation to calm and strengthen the mind, to quieten that inner voice or inner critic and to calm the restless mind. By the end of the class, my hope is that you step off the mat feeling refreshed, balanced and inspired to deepen your yoga, on and off the mat.
I encourage all personalities, shapes and sizes, both experienced practitioners and newcomers to the mat, to prioritise time for self-love and self-care. It is a journey that requires dedication, practice, and patience.
And with that, I hope you will join me.
Rita x
What People Say About Me
Rita has definitely enabled me to find my core and has got me using my back muscles for the right exercises, improving my posture and taught me how to position my back and body when lifting and engaging in muscles groups to use day to day.
I am a transformed man, I use my core more than I have ever before, my back muscles are now being used for my pull up and not using just my arms. I have lost weight, gained posture, got rid of my lower back pain and increased by metabolism to 15 years younger.
FREDDIE
Health Quote
"Your food affects your mood."
– Rita Mangan
Contact
Thanks for wanting to get in touch!
If you have a question about fitness or yoga you can send an email to
hello[at]ritamangan[dot]com
or you can also use the contact form.

Facebook


Instagram


Twitter

[contact-form-7 id="37″ title="Contact Form 1″]